Yes, we do conservation framing, preservation framing, and museum quality framing. In fact we don't even carry "regular" mats anymore. We use rag and alphacellulose mats exclusively because their surface papers hold their color longer and they don't damage the art in any way. We use acid-free backing and ultraviolet light- blocking glass when appropriate to keep your valuable or irreplaceable art protected.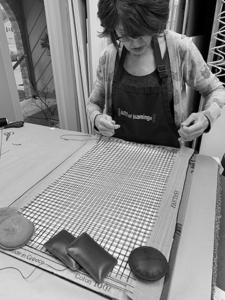 Preservation framing (or conservation framing) is the method where we envelope your artwork in a completely acid free environment. We use the highest quality mats, mounting boards and framing techniques to shield your valuable and sentimental artwork from the effects of acid degradation and harmful UV light. Our preservation framing allows you to remove the artwork from the frame at a later date, unharmed and unaltered. This will preserve the value of your artwork for years to come. In addition to preservation framing, we offer museum framing, which is the highest form of protective framing available. Our design consultants will help you decide which method is right for your artwork. Our preservation and museum standards are very high and have been independently scrutinized by industry experts for content, use of materials and framing techniques.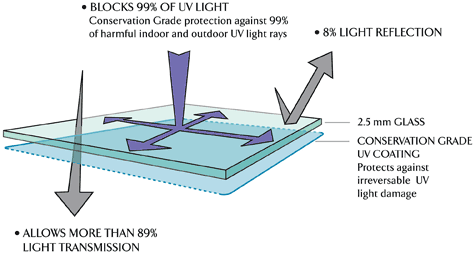 Ultraviolet light is one of the greatest sources of damage to artwork. The natural ultraviolet protection afforded by regular glass types, can only shield your artwork from some of the damaging effects of ultraviolet. Unfortunately, the upper end of the ultraviolet spectrum of light is the most hazardous to your art. To aid in the protection of your art, Tru Vue® has created a full line of UV reflective glazings. A thin film is placed over the surface of the glazing affording you up to 97% protection from harmful UV rays. The new conservation series of glass products include Conservation Clear®, Conservation Reflection Control® and Museum Glass®, the highest quality glass available. From the Acrylite® acrylic line, your conservation series includes Conservation Clear®, Conservation Reflection Control®, Conservation Clear Scratch Resistance® and Optimum Museum®. Select a conservation series glazing for your art and avoid hanging it in direct sunlight or under any other ultraviolet source, and you can be sure that your framed piece will last for years to come..